General travel info
The party place is an old campus area at the centre of the city of Orivesi, around 40 km northeast from the city of Tampere.
Street address: Koulutie 5, 35300 Orivesi, Finland
Some distances to the partyplace:
Tampere Pirkkala Airport: 55 km (45 mins by car)
Tampere City Center: 40 km (50 mins by car)
Helsinki: 215 km (2 h 30 mins by car)
Turku: 200 km (2 h 30 mins by car)
The party area has free of charge parking space for all the visitors. There's no need to reserve anything in advance.
If you need any help with your arrival, please contact the party orgaziners in advance enough!
Arriving to Finland
Fly to Tampere
The closest airport to the partyplace is the Tampere-Pirkkala airport. It's a small one with current flights to & from Amsterdam, Copenhagen, Frankfurt, Helsinki, London–Stansted, Munich, Oslo & Riga and with seasonal flights to & from Málaga and Rhodes. Please check the current flight schedules in: https://www.finavia.fi/en/airports/tampere-pirkkala
If you plan to stay a while in Tampere region Visit Tampere -website gathers all the information you need: https://visittampere.fi/en/
Fly to Helsinki
Helsinki is the main hub for flights in Finland so you may arrive and leave from / to anywhere. Domestic flights continue to Tampere as well while there is as well a straight train connection from the airport.
Helsinki Airport: https://www.finavia.fi/en/airports/helsinki-airport
Train connections: https://www.vr.fi/en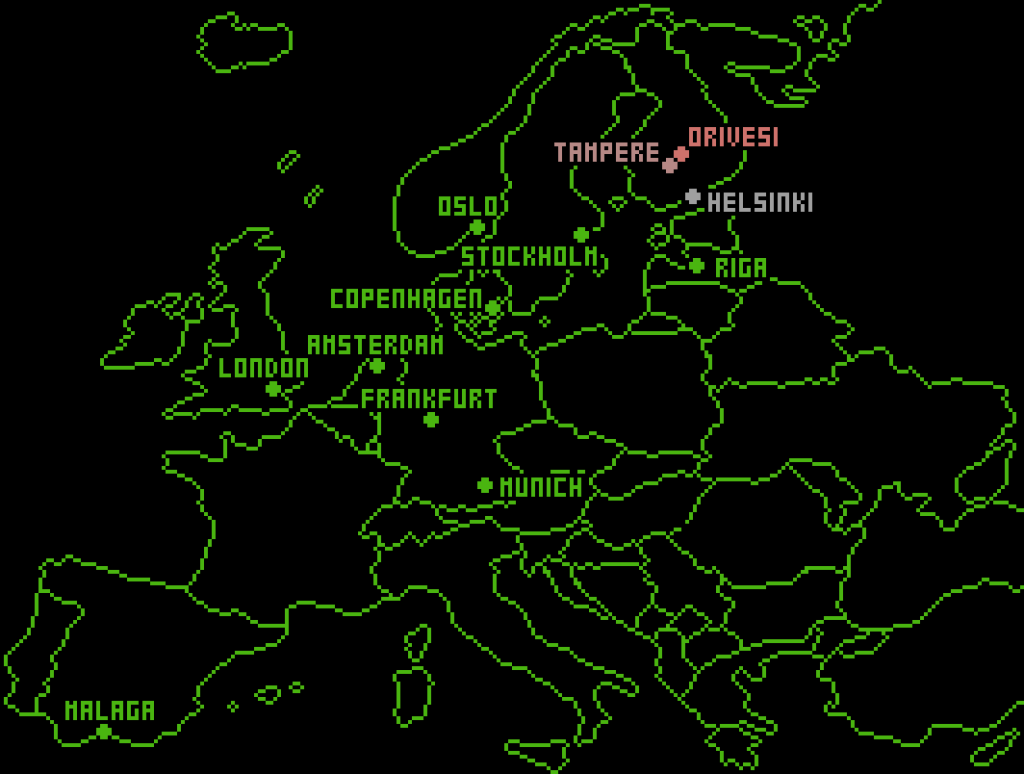 Ferries to Finland
Have a road-trip in a group with your car! From Stockholm, it's fun to take a Viking or Tallink Silja loveboat to Turku. Tune into the zoological mode with the merry seniors and 'travel-value' refreshments. You can also take a Wasaline Ferry from Umeå to Vaasa. Recommendation: book your boat early enough:
Viking Line: https://www.sales.vikingline.com/
Tallink: https://en.tallink.com/en/book-a-cruise
Wasaline: https://www.wasaline.com/en/
Travelling to Orivesi
Train
The city of Orivesi has two stops for trains. The main train station is ca. 3.5 km from the partyplace while the city centre stop is just 1 km away. However, the centre stop is only for regional trains. Please check your preferred train in advance in: https://www.vr.fi/en
Bus
There are hourly buses from Tampere and other cities that all stop ca. 1 km away from the partyplace. Check your bus early enough in: https://www.matkahuolto.fi/en
Taxi
If you need a cab in Orivesi to reach the partyplace, call the Orivesi Taxi in: +358 600 301515
PARTYBUS
Our exclusive PARTYBUS will take you from Helsinki to Orivesi and back. Jolly mood guaranteed. We'll announce the details later.