NOTE! If you are looking for Zoo club event on May 2023, go to this site!
We built it, you came, together we conquered the jungle.
Most awesome party, excellent productions, in both quality and quantity. Like in almost every demoparty, timetables were "Flexible", but little waiting time paid off in full. Astonishing participation on both sides, at the Zoo site and in your homes. We couldn't be more happy (or more tired). Teardown is now finished and we're safe at our homes, time to sleep for next 24-48 hours. Stay on tuned for more news from the Zookeepers – Finnsids II post order sales are starting soon! Meanwhile you can check the results and grab files in scene.org. You can also download all and everything in a one huge .zip file here (700MB).
You can also check those mega awesome entries from CSDB & Demozoo and remember to check our photo report from the party. We'll release recorded events via our Youtube channel eventually, after we have rested a while.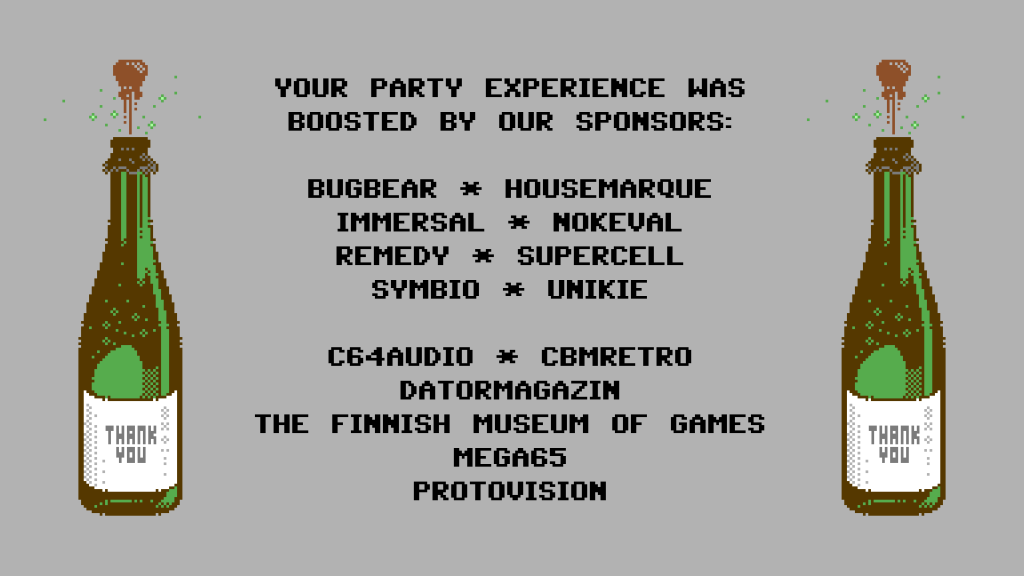 What Electric says:
Indeed we in Zoo staff are still trying to figure out what just actually happened. What we know is that the party was flooded with just so many great things that we can't even list them all. What we also know is that though we are tired we are smiling. This party was something we will remember for the rest of our lives.
In total we had 225 live visitors with over 3 000 sofasceners joining the party online. Our Space Bar went dry during the lengthy demo compo ending up to over 700 l of beverages consumed. Our merch? Well, you bought it almost all.
Compos make a demoparty and we're extremely happy seeing how much effort people had put in what they let us to show. The quality of everything was just too good. We also got almost 40% more entries (158 in total) compared to anything before. This all sets a new standard for us.
At this point we just want to thank EACH ONE OF YOU: participants, all the people who submitted entries, live acts, our guests of spoken programme, sponsors and their guests, exhibitors, flea market sellers, streamers, Orivesi Campus, catering, online audience, Zoo's little helpers and of course our SUPER staff – we could have NOT done this without anyone of you.
ZOO 2022 is over and out – see you in 2024!